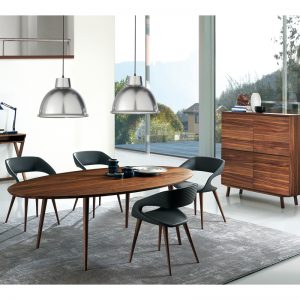 AT THE MARKET — Contemporary case goods resource Bellini Modern Living has created a new division called Bellini Italian Home that is debuting here this week with 75 pieces of Italian- made case goods and upholstery.
The company has been working on the new division for about two years in response to a demand for contemporary, Italian-made furniture.
"We see that contemporary and transitional is the fastest growing (style segment) in the industry," said Frederick Winther, vice president of sales and marketing. "The Italians are amazing at creating contemporary design that suits American consumers."
The line includes bedroom, dining room, occasional, entertainment and home office, as well as stationary and motion leather upholstery.
The wood line is primarily made with solid walnut and some walnut veneers that contrast with high gloss lacquer accents, including sides and frames.
By comparison, pieces in Bellini Modern Living are primarily made with veneers, and also feature more glass top tables with polished stainless steel bases.
Based in Toronto, Bellini Modern Living was created in 2002 and initially served the Canadian market. It expanded to the United States in 2007 with a line that today includes bedroom, dining room, occasional and accent furniture, home office and home entertainment, and upholstery.
This line is primarily made in China, Vietnam and the Philippines and priced slightly lower, at middle price points, while the Italian-made product in Bellini Italian Home is priced at middle to upper middle price points.
However, Winther noted that due to favorable exchange rates involving the Euro, the new Italian-made line will be a value, particularly when comparing the mix of materials, including solid wood.
"Comparatively, we have case goods that are not much more expensive coming from Italy versus China," he said. "Our items have a high perceived value."
He added that the company uses its own designers for both lines. However, Bellini Italian Home will also use some European-based designers. These designers work directly with the factories where Bellini is sourcing product, which are in central to northern Italy.
The Italian-made product it is showing in its space in H-520 of the International Home Furnishings Center will include one new bed, a new dining collection including table, chairs and side pieces, six entertainment units and six new leather upholstery groups.
The estimated 75 new pieces are all in stock and will ship immediately from the company's Toronto warehouse. Another several hundred pieces being shown in a catalog will be available direct from Italy.
Asian-made pieces in the Bellini Modern Living line, which is sharing space with the new division and will have 50 new pieces this market, also are in stock and available container direct.
"We have a container program for customers that want to buy direct containers and we have many hundreds of SKUs that are not on display," Winther said, adding that there are as many as 1,000 SKUs in stock for Bellini Modern Living. "It's a very big program, so customers can see the quality and some of the amazing designs, and we can show them a big catalog of what is available."
 http://www.furnituretoday.com/article/524963-bellini-unveil-italian-made-case-goods-upholstery