by Home News Now December 7, 2021
RICHMOND HILL, Ontario —Bellini Modern Living, a leading distributor of modern Italian-made furniture, is extending its outdoor furniture business into the hospitality segment. The COVID-19 pandemic created new opportunities for restaurants and hotels to raise their game with outdoor furniture, creating an opportunity for Bellini.
"During the pandemic restaurants and hotels opened new dining and seating areas outdoors all year long and these have become permanent additions to their facilities. Those moves required a new level of function, design and quality, presenting a wonderful opportunity for our new Italian Garden collection," said Frederik Winther, vice president of sales and marketing for Bellini Modern Living. "We have partnered with one of the top Italian producers of outdoor furniture who specializes in developing outdoor products for the residential and hospitality sector. Leveraging that partnership, we have aligned our offerings with key contract outdoor applications so the pieces will impress visitors from the moment they walk through the door. Our outdoor furniture truly stands above the rest, not only because of its beauty, craftsmanship and customization but also because it can fit many different environments—from cafes to hotels — and are offered at wholesale prices."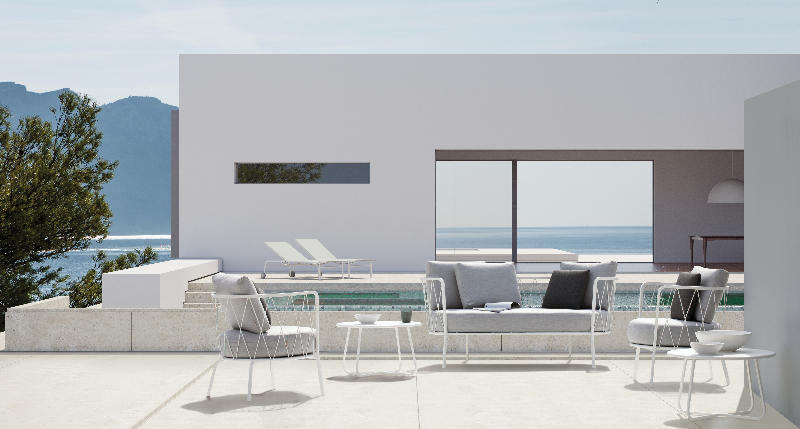 Headlining the product selection is the newly introduced Italian Garden collection, which includes 15 groupings created by world renowned Italian designers. Inspired by the visuals of a quaint Italian outdoor bistro, the new collection is fully customizable with fabrics, colors and frame finishes. The fabrics are suitable for all weather environments. Options include more than 10 fabrics and frame colors, and all are fully galvanized inside and outside of the frame to prevent rust when exposed to harshest outdoor elements.
Highlights of the new releases include the Valentino and Summertime outdoor dining sets, which feature a dining table and chairs. The sets, part of the Bistro collection, provide an elegant look to any outdoor space. All metal pieces are galvanized inside and out and primed for anti-corrosion and for long lasting, technologically advanced durability. Each piece is powder coated and UV treated to create a perfectly smooth surface that is fade resistant and will stand the rigors and conditions of commercial outdoor use.
Seating durability has been made easier with Bellini's specially engineered performance fabric technology that meets the specific challenges that come with high traffic in commercial environments. The fabrics are mold resistant and contain anti-stain and anti-bacterial properties. However, Bellini takes things one step further and has added a Teflon coating inside the fabric to create a completely water-resistant cushion that will not absorb water offering a truly remarkable difference.
Other features that stand out to hospitality customers are the sophisticated chair designs, including the Dasy armchair, that are manufactured to commercial-grade standards and are customizable – with 18 color choices. Almost all are stackable for convenient storage and easy access in a small footprint. There are also two tables that include remarkable self-adjusting "flexing" surface tops to prevent tables from wobbling on uneven services.
The company's expansion demonstrates its position as a growing outdoor furniture resource with a variety of product offerings for the outdoor contract furniture segment. While Bellini is a wholesaler, the company is different than its wholesale competitors offering very specialized, high-end quality at attainable prices. Samples for the hospitality segment are available through Bellini's quick ship program.
Bellini Modern Living will showcase the collection in the company's Las Vegas Market showroom located at B670.
Founded in 2002 in Toronto, Canada by Hossein Azimi, Bellini Modern Living is a leader in the home furnishings category, offering an extensive collection of high-quality yet affordable products. Known for its premium upholstered leather offerings, the company also has a strong presence in casegoods, including dining, accent pieces, home office and more. The company entered the U.S. market in 2007 and has been continuously expanding its industry presence.
Bellini Modern Living targets expansion into hospitality segment with Italian Garden Collection – Home News Now