October 3, 2023  by HFBusiness Staff in Business Strategy, Industry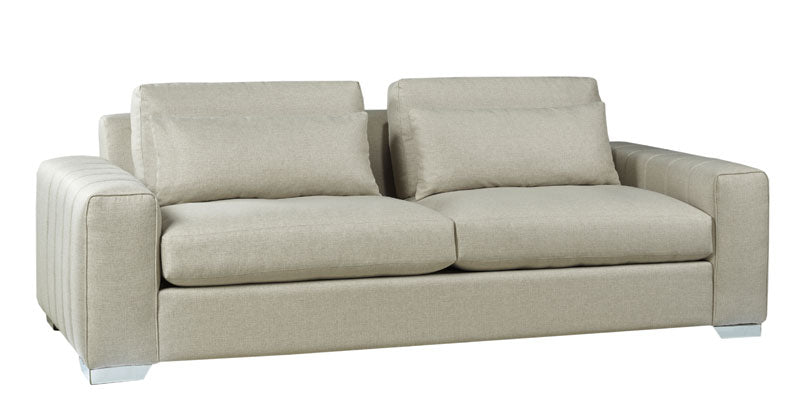 Bellini Modern Living (IHFC H520), distributor of modern Italian furniture, is building on the success of its Canadian custom upholstery line at the High Point Market, expanding the collection to incorporate three new tailored sofa designs, two accent chairs and an upholstered bench.
All of the new silhouettes are custom made in Canada to ship to retailers across North America in six weeks or less in a broad range of fabric choices.

"Dealer reaction to our made in Canada custom upholstery line has been overwhelmingly positive and we have been moving quickly to expand the line," said Hossein Azimi, chief executive officer of Bellini Modern Living.

"While the ability to customize upholstered furniture to suit personal decorating preferences continues to grow in importance to shoppers, the majority of options available are typically traditional styles with long lead times. Dealers tell us the ability to offer modern and contemporary styles coupled with fast delivery is simply a game-changer."

While perhaps best known for leather furniture imported from Italy, the domestically produced custom line draws on Azimi's roots in the manufacture of couture-level upholstered goods designed for the discerning high-end market.

"Characterized by a range of beautiful European fabrics, colors and textures, producing the line here in Canada allows us to offer the ability to give affluent shoppers exactly what they want and get it delivered to them fast," he added.

New this Market, the Fiona sofa is a curvaceous blue velvet silhouette with a tight seat in a distinctly contemporary European style, featuring a Canadian hardwood frame, and no sag spring seat and back construction. Suggested retail, depending on fabric grade, is $2,899, and the Marco sofa is a clean-lined Tuxedo look with a down-filled seat and back and channel arms.

Additionally, Bellini Modern Living's Zurich sectional will also make its High Point Market debut. The product is a sleek and modern modular pillow-back sectional with three deep seats, slim track arms and plush down-filled lumbar pillows for extra comfort. Fabric selections are performance-rated for easy care, including stain resistance and the ability to clean the material. Suggested retail $3,399.

"Our goal in introducing a domestic custom line was to make a statement at very discernable values and we have," Azimi said. "Dealers immediately recognized the value of what we are offering and this Market we are excited to satisfy their needs for more." Azimi said.
hfbusiness.com/hfbnow/ArticleId/24366/bellini-modern-living-introduces-new-tailored-designs